Get on-demand financial insights for your appraisal business
Anow offers payroll, digital invoices, powerful financial reports that can be delivered to your inbox, and tools to automatically calculate any fees.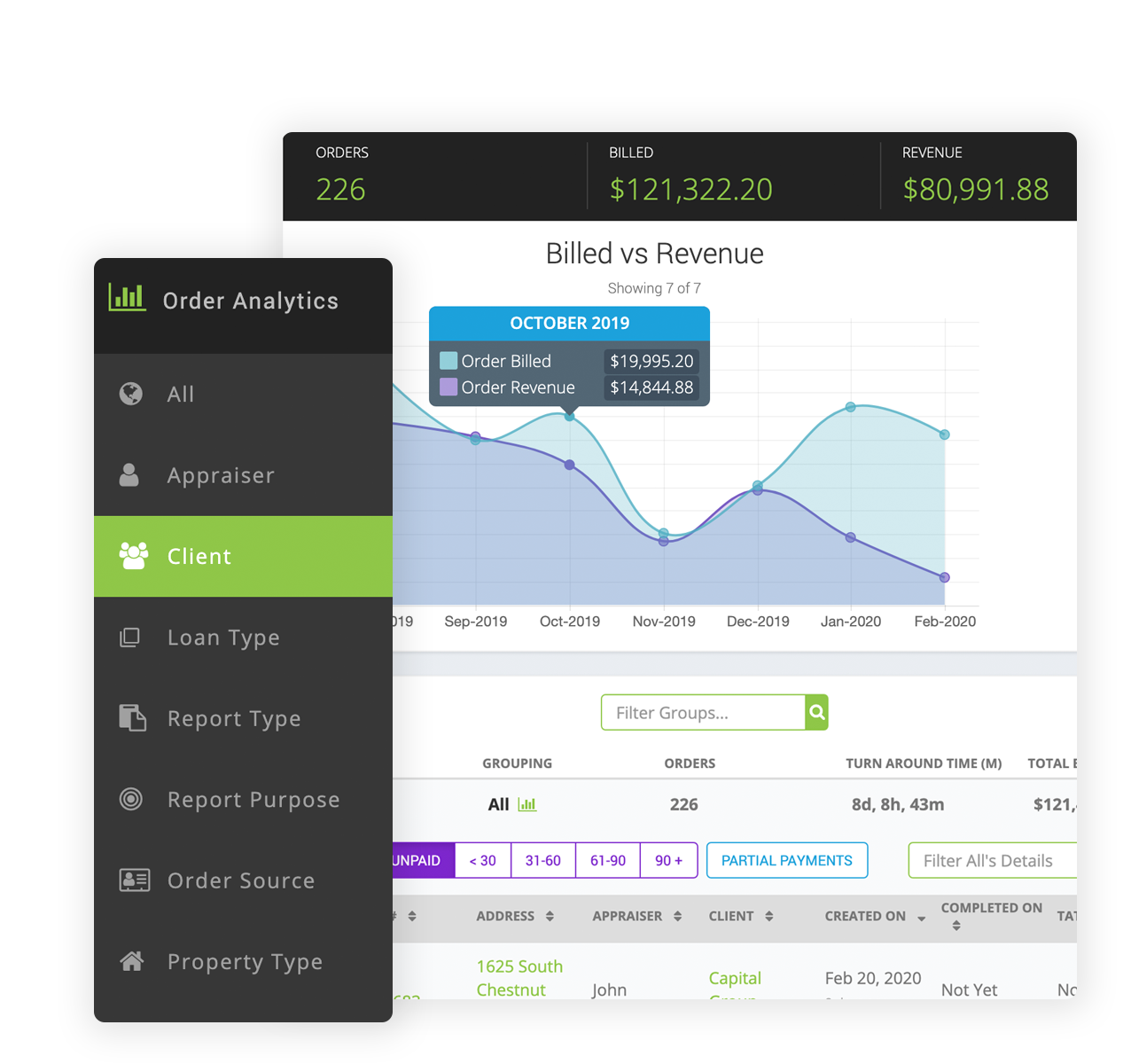 Is your appraisal business looking for a competitive edge?
Every business owner knows that financial data is crucial for their company's success.
But in a competitive industry you need actionable insights, reports that are aligned to your business goals, and handy tools that remove human error from your calculations.
Anow gives you powerful tools to build your business
Track your business growth with powerful analytics reports.

Run your company's payroll.

Send digital invoices.

Collect online payments.

Manage paid and unpaid orders.

Schedule a business health report.

Set a commission or flat fee for each appraiser.
Anow Accelerate enhances your business capabilities
Deliver customized reports straight to your inbox on a defined schedule.

Offer deeper Financial Insights with exclusive new reports.

Automatically calculate fees for appraisers, reports, and almost anything else.
Track your business growth with beautiful analytics
Do you need an easier way to understand your appraisal business?
Transform your appraisal data into powerful reports on your company's revenue, reports, and payroll with Anow.
Anow can report on:
Volume and revenue (with reports and graphs).

Categories by client, appraiser, and location.

Custom tracking categories (eg. AMC, Broker, etc.).
And more!
Automatically generate and send business health report emails each week or month, and export data in both .CSV and PDF format.
Anow even enables you to store commissions and run payroll.
Looking for even more Analytics?
Send smart invoices with easy online payments
Would you like quicker invoices that can collect credit card payments?
Generate and send beautiful, branded invoices that include payment links – so your clients can settle up with any major credit card.
Anow makes invoicing easy:
Create and send attractive invoices for your files and fees in seconds.

Brand each invoice with your company logo.

Generate payment links that accept every major credit card.

Offer robust accounts receivable tracking.

Enable accounting and client report exports.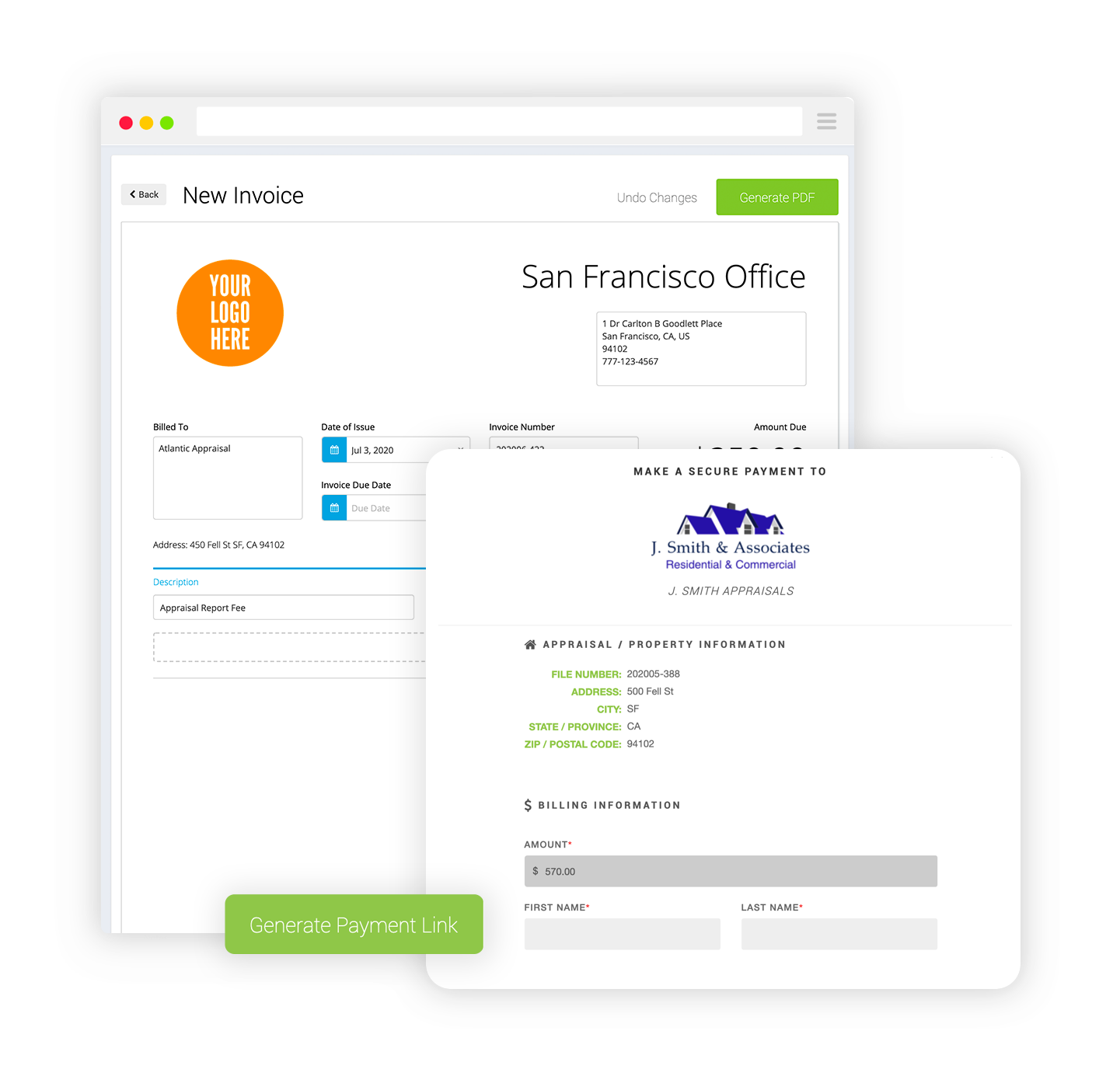 Get weekly and monthly business health reports
Do you like to keep your finger on the pulse of your appraisal business?
Automatically create and send a custom report to anyone at your company on a weekly or monthly schedule.
Set a commission or flat fee for each appraiser
Is your team still calculating commissions and fees manually?
Save time and eliminate human error by setting a default flat fee or commission percentage for each appraiser in Anow.
Now when you assign a user to an appraisal with a billable fee, their fee will automatically appear in the section for fees and costs.
This feature doesn't just save time. It also eliminates errors that could end up on your payroll and appraiser paycheques.
Anow Accelerate
Is your business on a mission to grow?
Accelerate adds a suite of extra tools to help your appraisal business scale.

You can add Accelerate to any Essentials plan, on a monthly or annual basis.
Get on-demand financial reporting
Answer complex questions with pre-built Insights reports sent straight to your inbox, and save time with canned fees.
Track your appraisal company's growth
Get a
FREE
30 day trial of Anow and Anow Accelerate.