Residential appraisers can
achieve more with Anow

Deliver more appraisals, streamline your workflows,
track your business growth, and work anywhere.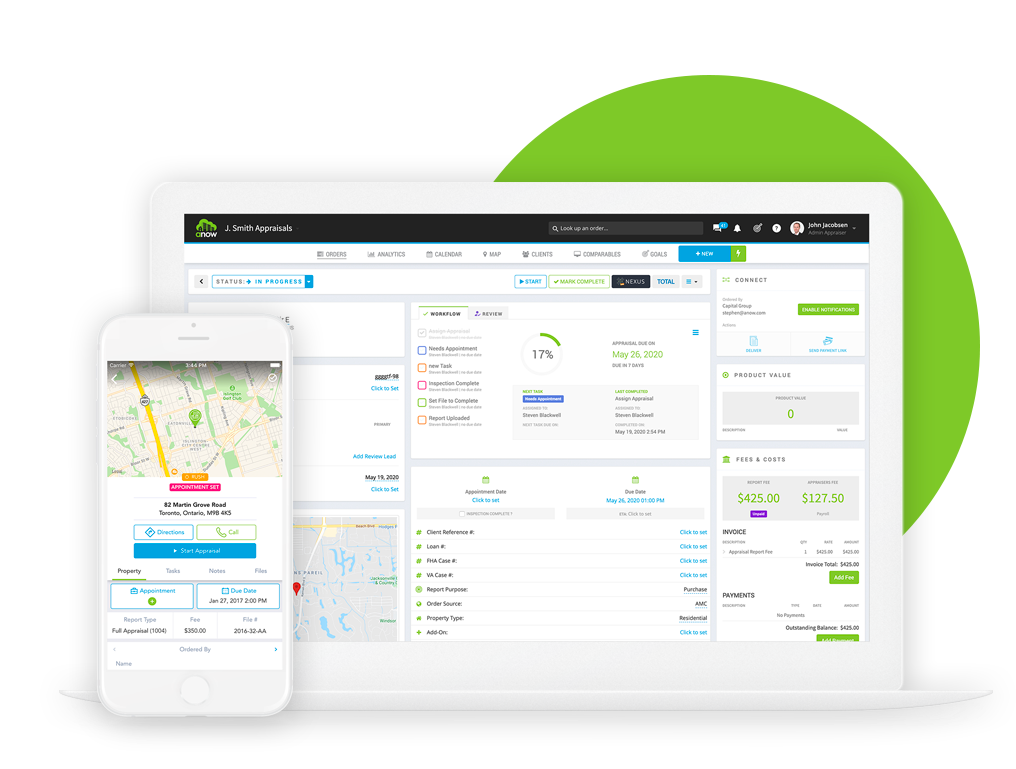 Are you ready to deliver more residential appraisals?
Completing appraisals is what actually moves the needle for your business.
So performing admin tasks, planning your itinerary, and trying to liaise between stakeholders can sometimes seem like a tedious distraction.
Anow frees you to complete more orders:
Track every order with a CRM designed for residential appraisers

Watch your business grow with financial reports and analytics

Send smart digital invoices with online card payments

Plan your month with a calendar designed for residential appraisers

Pin every appraisal to a map with filters and order details

Send messages straight from an order to anyone in your business

Give clients a personalized order portal with automatic updates

Calculate fees for appraisers automatically

Create a custom workflow for every business process

Work anywhere with the Anow Mobile smartphone app

Enjoy personalised product training and support
Anow Accelerate gives you tools to scale:
Get advanced financial insights reports


Schedule customized reports to be sent to your inbox


Save even more time with extra automatic fee calculations


Simplify review management with a QC Dashboard


Control your order lifecycle with custom rules


Track performance with Appraiser Scorecards


Identify star clients with Client Scorecards


Track revenue and order goals


Manage multiple offices


Match your best appraisers to each order
Track every order with a CRM for residential appraisers
Are you ready for a faster, smarter way to do business?
Anow puts your entire residential appraisal business into one beautiful interface that's designed to save time, cut costs, and help you complete more orders.
You can manage your orders, clients, fees, and more using powerful tools that eliminate admin tasks, give you a clear picture of your residential appraisal business, and enable your team to spend more time serving clients.
Manage your entire residential appraisal business:
Create and customize your workflows

Get automated status updates

Track end-to-end status updates

Manage an unlimited number of appraisals and appraisers

Upload and attach unlimited amounts of files

Get your business up and running in minutes
Watch your business grow with beautiful analytics
Do you need an easier way to understand your residential appraisal business?

Anow transforms your appraisal data into powerful financial reports that offer a clear overview of your residential appraisal company's revenue, reports, and payroll.
Get the financial reports you need:
Volume and revenue (with reports and graphs)

Categories by client, appraiser, and location

Custom tracking categories (eg. AMC, Broker, etc.)
…And more
Anow can also store commissions, run payroll, generate and send business health report emails each week or month, and export data in both .CSV and PDF format.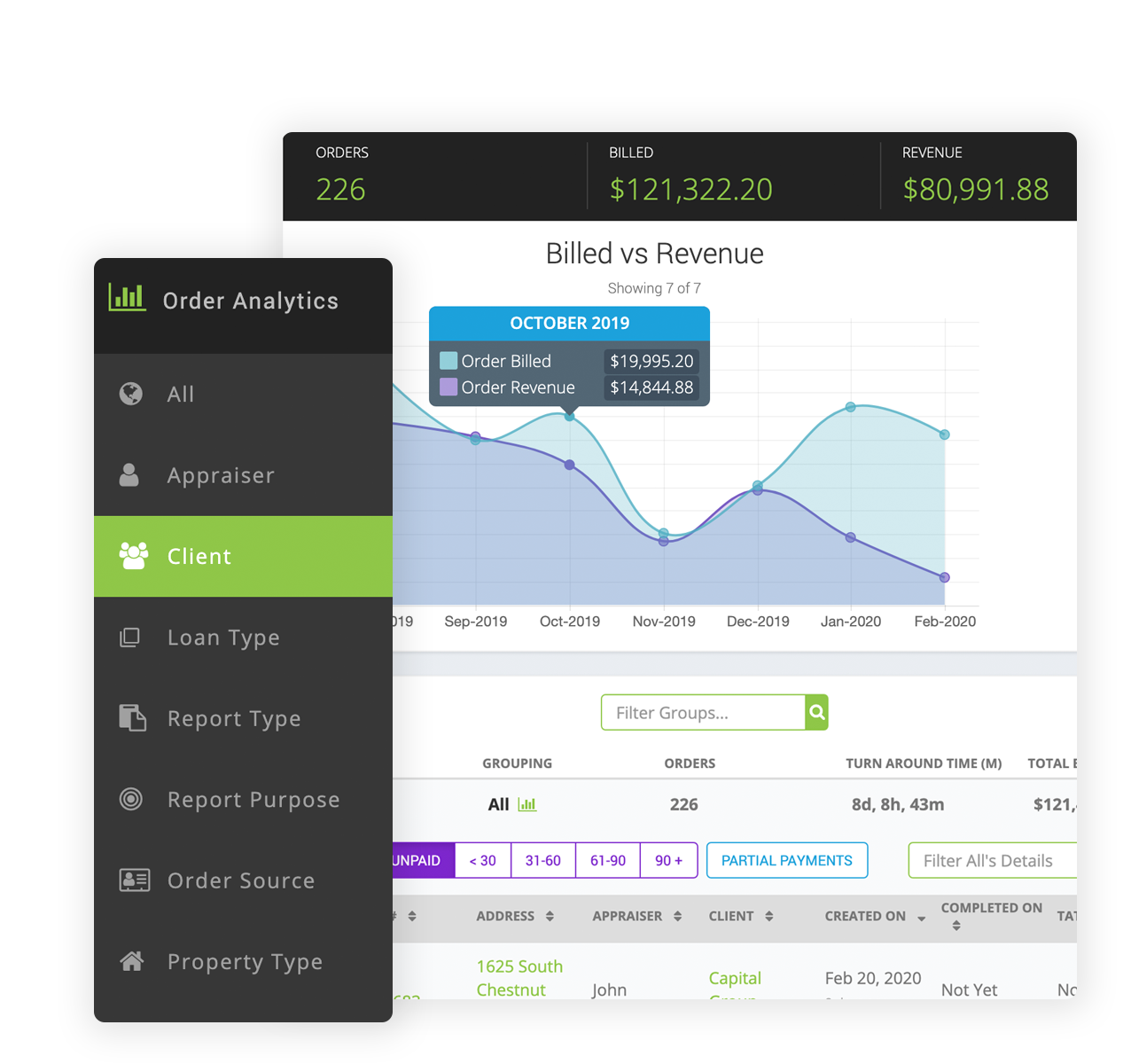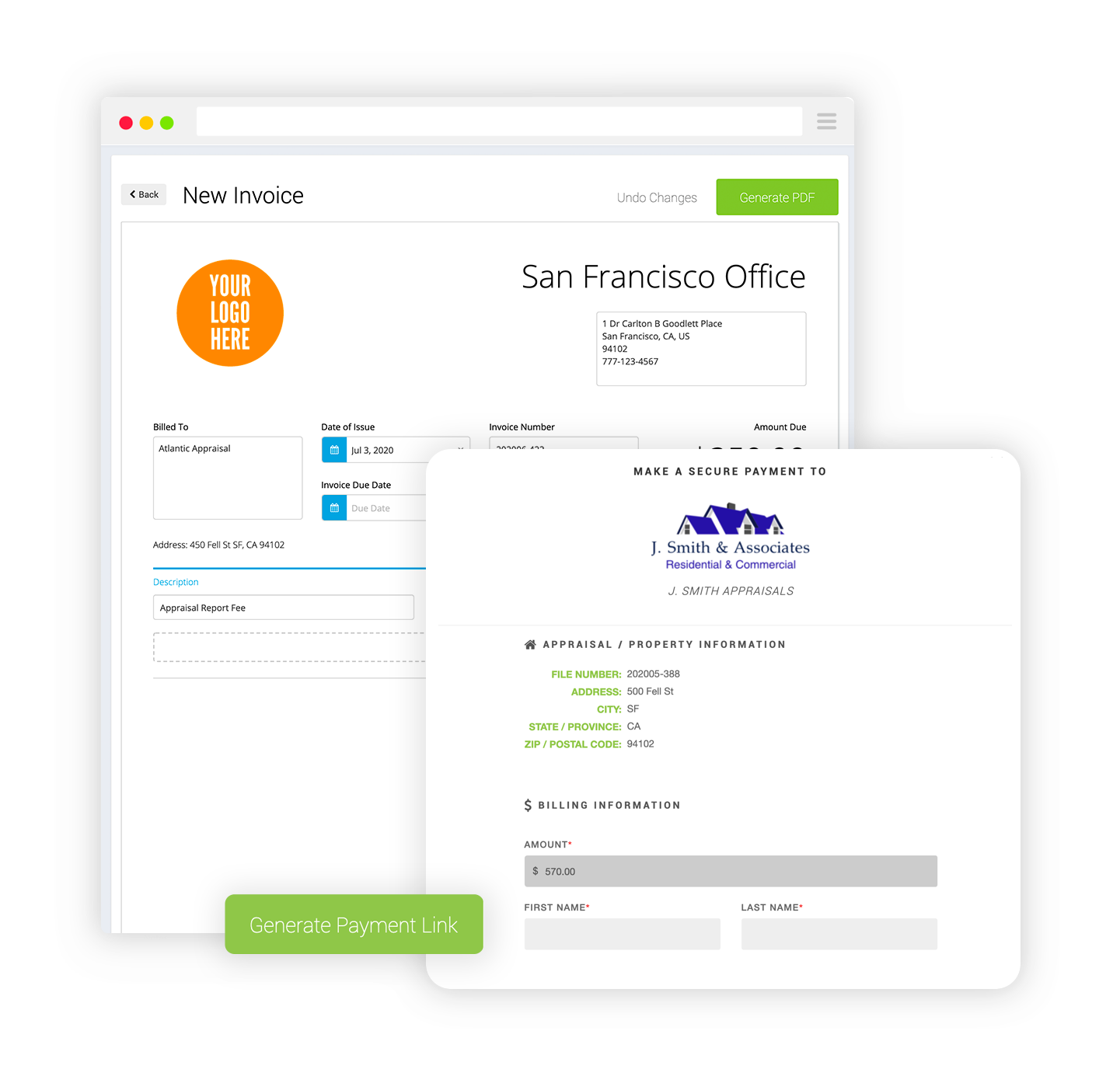 Send smart invoices with easy online payments
Would you like easier to generate invoices that can collect credit card payments?
Generate and send beautiful, branded invoices that include payment links – so your clients can settle up with any major credit card.
Make invoicing and payment easy:
Create and send attractive invoices for your files and fees in seconds

Brand each invoice with your company logo

Generate payment links that accept every major credit card

Offer robust accounts receivable tracking

Enable accounting and client report exports
Achieve more with a calendar that's designed for residential appraisers
Could you do more with better time management?
Anow's calendar gives you a clear overview of your schedule in a simple, drag-and-drop interface that synchronizes with your existing calendar.
It's never been easier to get a handle on your schedule, or to check your itinerary to see if you or your residential appraisal team are available to complete an order.
Take control of your calendar:
Synchronize with Google calendar and your phone

Send customizable mobile notifications

Add appointments, due dates, and events with a simple drag-and-drop interface

Block off availabilities and vacation time

Apply filters and overlays to track your entire team

Display in a grid view that suits larger teams
Map every order across your residential appraisal business
Are you looking for a total overview of your company's appraisal activities?

Build a clearer picture of your residential appraisal pipeline by viewing your orders on an interactive map.
Toggling 'Map View' in your Appraisal Dashboard pins every order to a map that we've designed to give the perfect level of detail at each stage.
Map out your entire residential appraisal pipeline:
Get a summary view with appraisal clusters, or zoom in to see individual orders

Check the status of each order with color-coded pins

Use filters and search options to remove orders you're not interested in

Check appraisal details by simply clicking on an order pin

Calculate your driving distance and run mileage reports
Send and track messages for every order

Does your residential appraisal business need an intuitive messaging system to discuss orders and track conversations?

Anow's Message Center is integrated throughout the platform. It's easy to use, and each conversation can be linked to an order and recalled later.
Now your residential appraisal team can keep in touch and help anyone in the office to keep on top of each order as it evolves.
Automate your client updates with Anow Connect

Do you want a faster, automated way to update your clients about their orders?

Anow Connect gives each of your clients a personalized portal where they can track orders, and sends automated status updates straight to their inbox.
Give your clients a portal where they can do anything:
Track the status of each order

Get a map view of each order

View invoice information

Check any relevant notes
Once your client has placed an order and it's been accepted, they can simply log into their Anow Connect portal to begin tracking the status.
Each time you update an order in Anow they immediately receive an automated email update.
Phone calls and email updates are now a thing of the past.
Calculate appraiser fees automatically
Is your residential appraisal team still calculating commissions and fees manually?
Save time and eliminate human error by setting a default flat fee or commission percentage for each residential appraiser in Anow.
Now when you assign a user to an appraisal with a billable fee, their fee will automatically appear in the section for fees and costs.
This feature doesn't just save time. It also eliminates errors that could end up on your payroll and appraiser paycheques.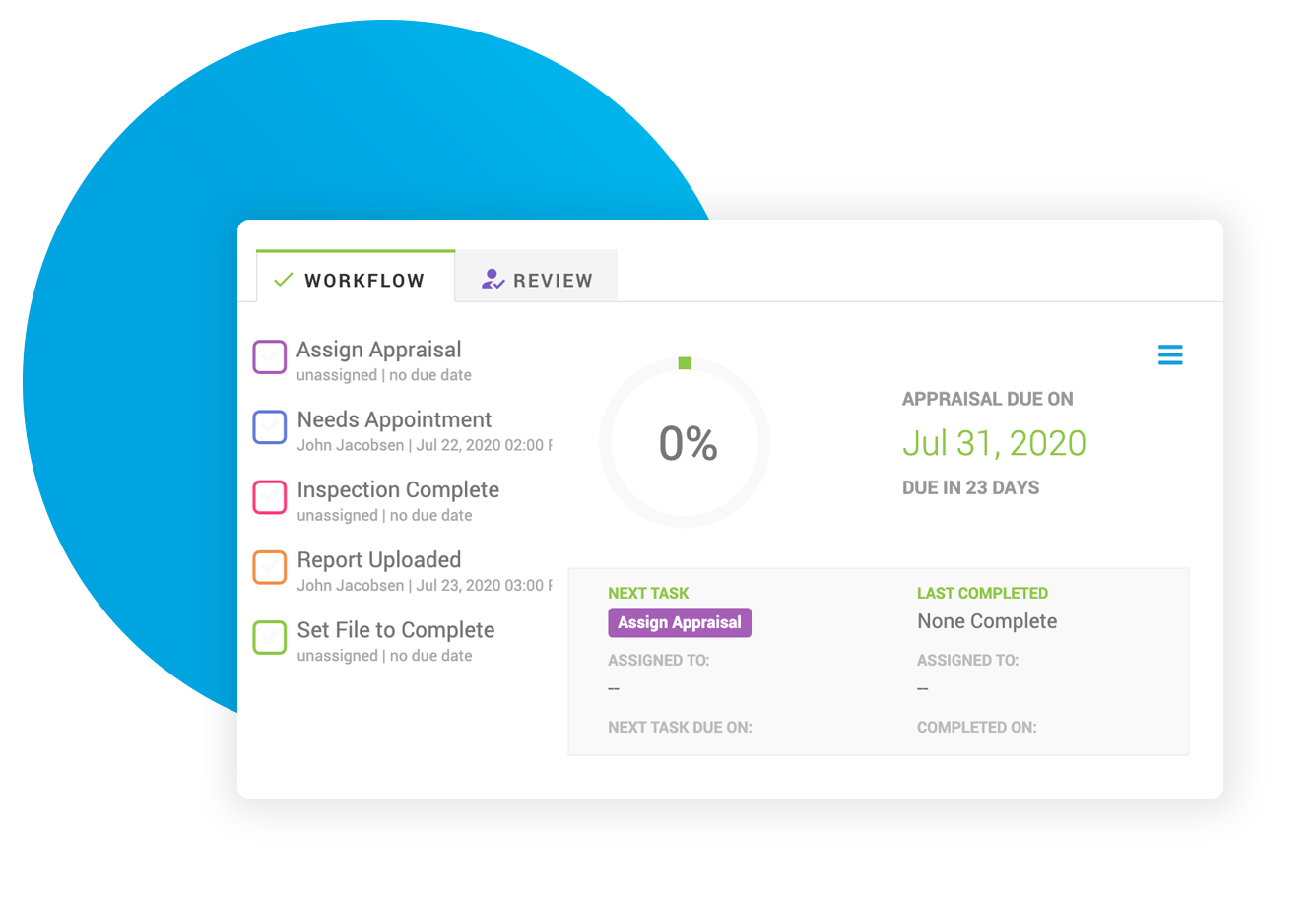 Define each business process as a custom workflow

Are you looking for a tool to streamline your business processes?

Use Anow's Custom Workflow tool to define the steps for each activity in your appraisal business and ensure that nothing important gets overlooked.
Create workflows to streamline your processes:
Create and name new workflows

Add each task with a color code and description

Save time by setting tasks to be checked-off when an action's completed

Set each workflow as the default template for any action
Now if your team creates a new appraisal, they'll automatically load the 'New Appraisal' workflow – with each step laid-out, color-coded, and described by the business owner.
Work smarter, anywhere, with Anow Mobile
Could your appraisers achieve more if they had every detail at their fingertips?

Anow Mobile puts the power of Anow and your entire residential appraisal company's knowledge into a simple, beautiful mobile experience that's tuned for each member of your team.
Now your team can spend more time winning business – and less time checking their laptops, calling the office, and trying to work out their schedule.
Access your entire residential appraisal business from your smartphone:
Get an overview of your itinerary from the customizable home screen

Check every appraisal deal and record

Map out appraisals and load them into your navigation app

Update your tasks, notes, and files

Collaborate with colleagues in the office

Manage your appraisal calendar and sync it with your smartphone

Work offline and use Siri to transcribe notes (iOS only)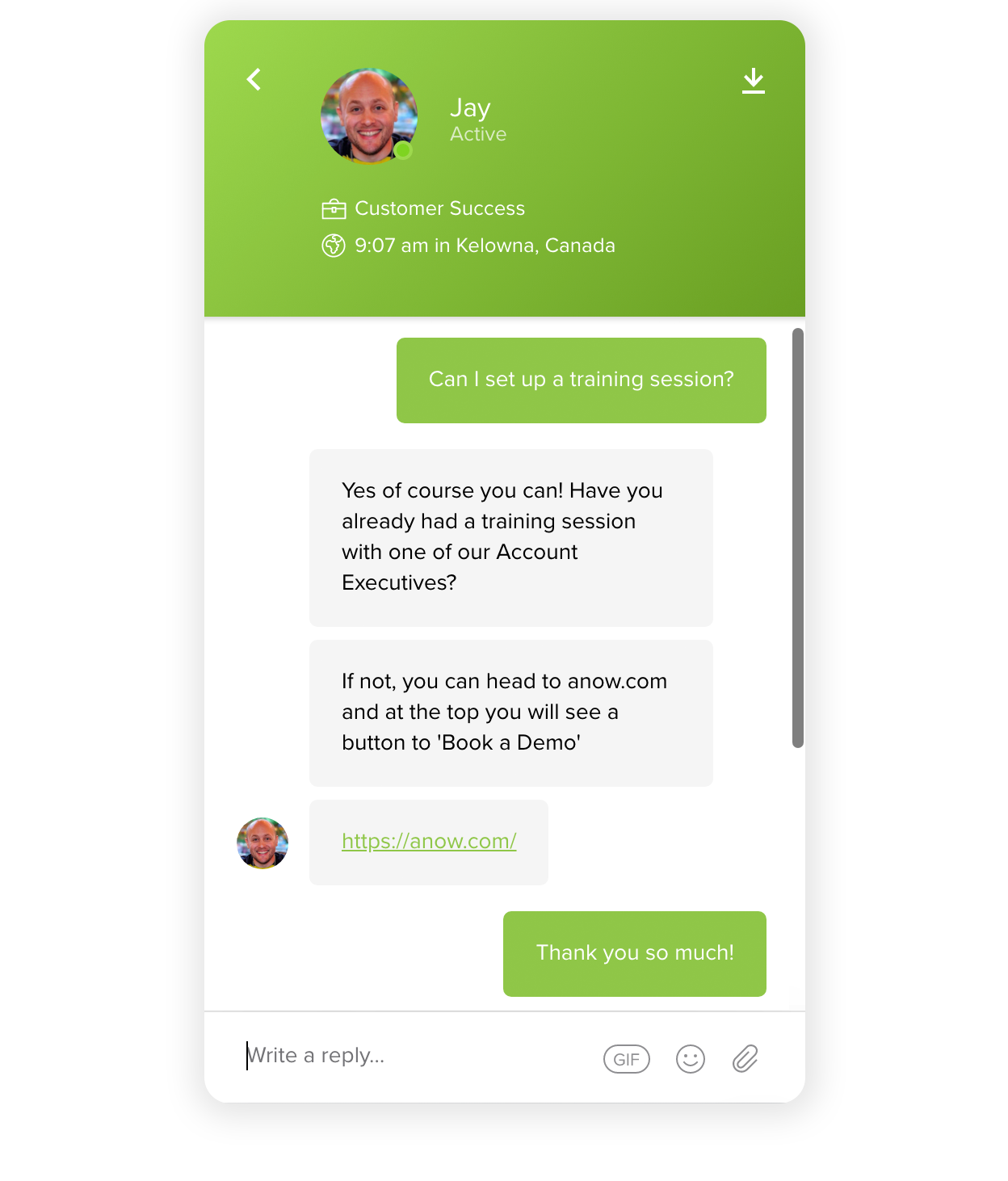 Get a personal product training and support experience

Do you feel worried that it might be difficult to setup and use a new system?
We offer free one-on-one product training and support to get your team up to speed.
You can book a session that fits your needs:
1. Process
Set your company up for success. Discover how to build custom workflows, file numbers, add numbers, and more.
2. Finance & Analytics
Get a handle on your company's numbers. Learn how to use payroll, send invoices, set fees, and generate reports.
Anow Accelerate
Looking for a powerful suite of tools?
Accelerate is a bundle of features for growing companies needing the features that the best companies rely on. Accelerate can be added on to any Essentials plan on a monthly or annual basis.
What do you get with Anow Accelerate?
Financials
Financial and reporting flexibility to meet your needs. Pre-built insights reports and canned fees, coupled with tech fees means you can answer complex questions and get deep insights with ease. 
Teams
Working with and managing a team has never been easier than it is with Anow, from smart assigning appraisers to orders, to setting up office profiles and watchers, to having real-time appraiser and client scorecards available at your fingertips.
Quality
Enhance the quality of appraisals and reports that your company is able to deliver with assigned Reviewers, a dedicated QC Dashboard to manage orders needing review or attention, customizable review checklists and more.
Branding
This is for the companies that want to stand out and look professional. Add your logo and other important company information to your Anow Walkthrough survey, as well as your Anow Connect Order Form and Online Client Portal.
Deliver more residential appraisals with Anow
Get a
FREE
30 day trial of Anow and Anow Accelerate.