Build a winning appraisal team with powerful collaboration tools
Anow offers powerful tools to track your team's performance, manage your order lifecycle, and match clients with their favourite appraisers.
Do you want tighter teamwork and better performance?
Your business is built on the integrity of its appraisals and client relationships.
It's important that admin gets done. But it can be difficult for appraisers to keep on top of their admin tasks and remain focused on high-level business goals at the same time.
Anow Accelerate offers a collection of features for appraisal and valuation companies that are looking to improve team performance and communication. 
Anow Accelerate can focus your appraisal business
Take control of your order lifecycle and identify 'At Risk' appraisals

Track appraiser performance

Identify your company's top clients

Set and track revenue and order milestones

Celebrate your team's wins

Manage your orders across multiple offices

Match appraisers and clients who enjoy working together
Give your schedule the value it deserves
Could better time management help you do more?
Anow's calendar gives your team a clear overview of their schedule in a simple, drag-and-drop interface that synchronizes with their existing calendar.
It's never been easier to get a handle on your schedule, or to check your team's itinerary to see if they're available for an appraisal.
Get easy access to your teams schedule and assign new orders seamlessly
Apply filters and overlays to track your entire team.

Enjoy two-way sync with Google and iOS calendars.
Block off availabilities and vacation time.
Drag and drop appointments, due dates, and events with ease.

Display in a grid view that suits larger teams.
Keep communication with your team clean, easy and centralized
Does your team need an intuitive messaging system to discuss orders and track conversations?
Anow's Message Center is integrated throughout the platform. It's easy to use, and each conversation can be linked to an order and recalled later.
Now your appraisers can keep in touch, while also helping the admin team in the office to keep on top of each order as it evolves.
Send messages directly from any order
Each order includes a messages tab where you can start a conversation that's automatically linked to that appraisal.
Each order has four message channels:
General

Appraiser

Review

Admin
Each message is updated in real-time and can be viewed later by anyone who has access to the channel where it was sent from.
Check the Message Center from anywhere
You can load the Message Center directly from the menu bar, anywhere in Anow.
Load a message, then click the Order Information dropdown to get a quick overview of the key order details. You can also click 'View Order Details" to view the entire order.
Get notifications and reply from your email inbox
Each new message triggers an icon inside Anow. You also receive an email notification and can reply to the conversation straight from your inbox.
Complete orders alongside your teammates
Will multiple appraisers working on one order help you achieve sucess faster?
Anow gives you the ability to have multiple appraisers working on the same order at the same time.
Assign multiple appraisers to one order
Assign individual tasks on the workflow – and notify certain people when those tasks are completed
Real-time updates – don't worry about refreshing the page, everything is live updated
Define each business process as a custom workflow
Are you looking to streamline how your team gets work done?
Use Anow's Custom Workflow tool to define the steps for each team member and ensure that nothing important gets overlooked.
Build each workflow with tasks
Just add and name a new workflow template, then add each task in order.
Each task can be color-coded and given a description.
Save time with task autocompletion
You can save time by setting a task to be automatically checked-off when a certain action is completed. For example, you can set the task 'Book an Appointment' to be struck-off when an appointment's booked for that order in Anow.
Make workflows your default choice
Set each workflow as the default template for an action.
Now when your team – let's say – creates a new appraisal, they'll automatically load the 'New Appraisal' workflow, with each step laid-out, color-coded, and carefully described.
Now you can feel confident that each activity in your business will be completed properly.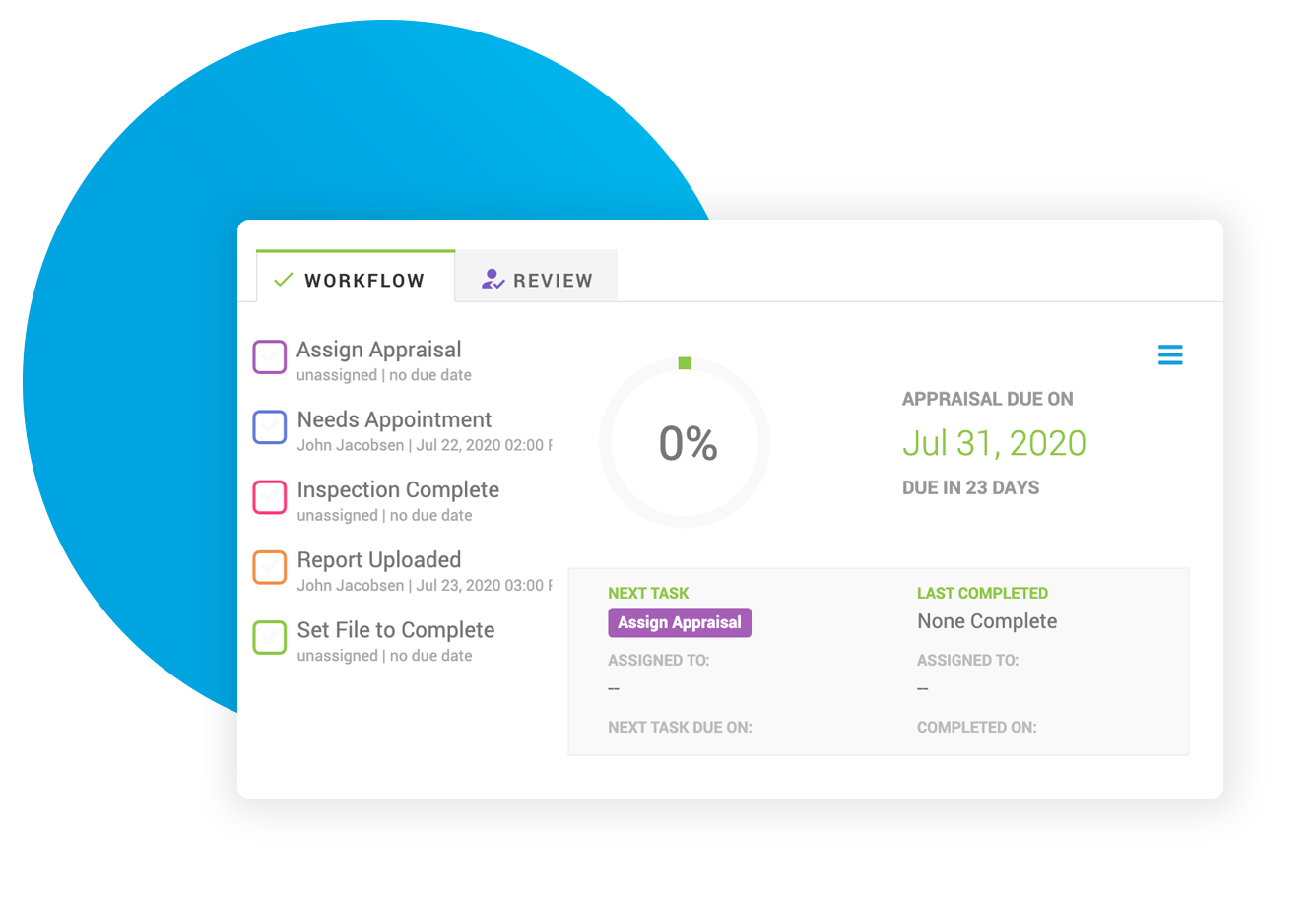 Anow Accelerate
Is your business on a mission to grow?
Accelerate adds a suite of extra tools to help your appraisal business scale.

You can add Accelerate to any Essentials plan, on a monthly or annual basis.
Collaborate more easily than ever
Match your star appraisers with your top clients, set up office profiles and watchers, and track performance with appraiser and client scorecards.
Build a winning appraisal team
Get a
FREE
30 day trial of Anow and Anow Accelerate.