Take total control of your appraisal business
Anow gives you powerful tools to manage your appraisal team, track and achieve business goals, and deliver world-class customer service.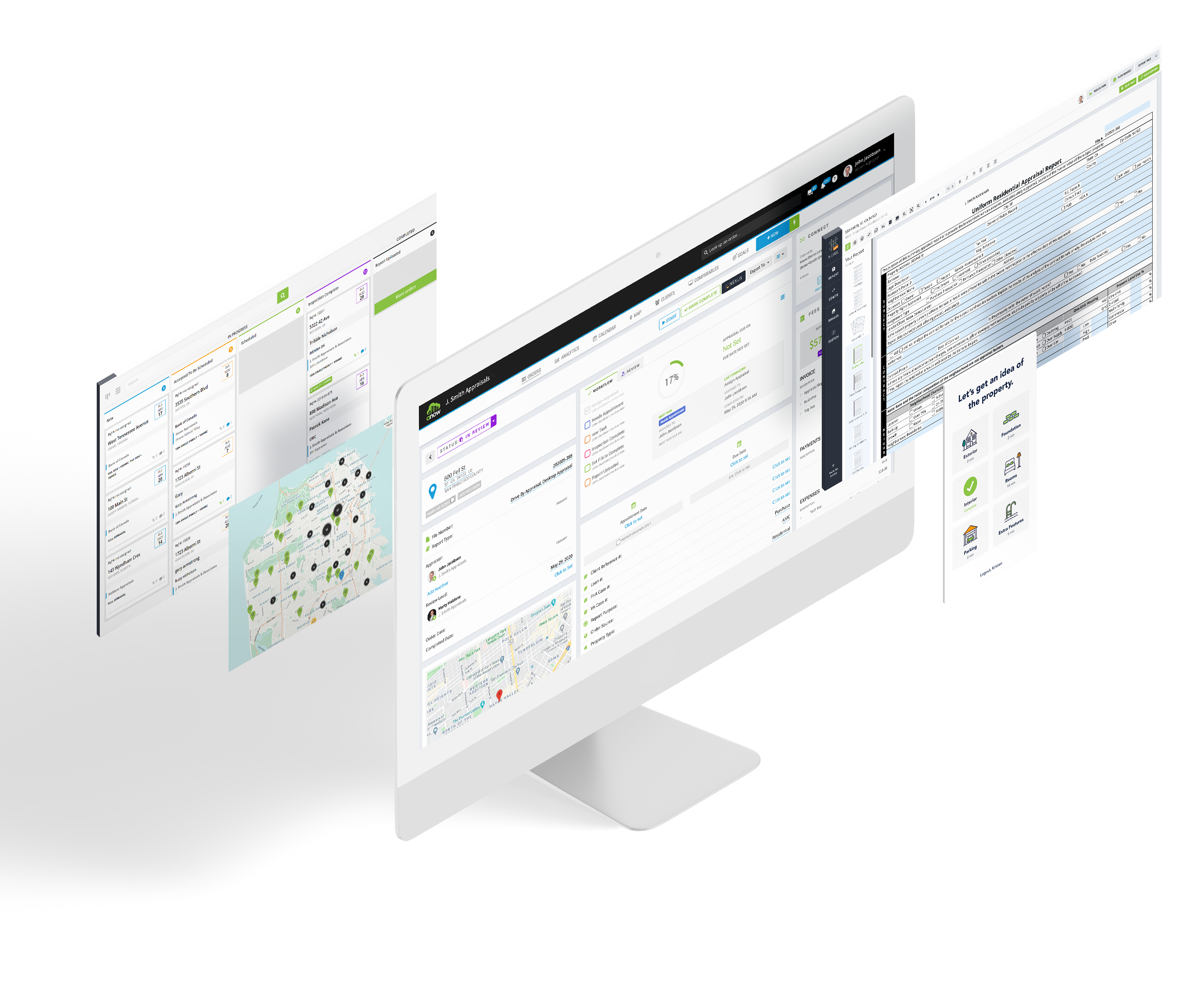 Are you ready to grow your appraisal business?
Your team was built to complete orders and look after your clients.
But administrative tasks, paperwork, and manual processes can often get in the way of the things that matter most – delivering business growth and outstanding customer service.
Anow gives you tools to build your appraisal business.
Build and manage your order pipeline
Track appraisals with a dedicated CRM

Manage time better with a calendar that's designed for appraisers

Pin every order to an interactive map for a total business overview

Automate order updates to your clients

Work anywhere with a powerful mobile app experience

Upload and attach an unlimited number of files

Import your live and historical orders
Track your business with powerful financial tools
Run your company's payroll

Send digital invoices

Collect online payments

Manage paid and unpaid orders

Schedule a business health report

Set a commission or flat fee for each appraiser
Review your orders more accurately and easily
Create and run order reviews

Assign reviewers

Track reviews in your Appraisal Dashboard
Track every appraisal with a dedicated CRM
Is your team ready for a faster, smarter way to do business?
Anow puts your entire business into one beautiful interface that's designed to save time, cut costs, and help you complete more appraisals.
You can manage your orders, clients, fees, and more using powerful tools that eliminate admin tasks, give you a clear picture of your business, and enable your appraisers to spend more time serving clients.
Anow enables your appraisal business to:
Create and customize your workflows
Get automated status updates
Track end-to-end status updates
Manage an unlimited number of appraisals and appraisers
Upload and attach unlimited amounts of files
Get your business up and running in minutes
Achieve more with a calendar that's designed for appraisers

Could better time management help your appraisers to do more?

Anow's calendar gives your team a clear overview of their schedule in a simple, drag-and-drop interface that synchronizes with their existing calendar.
It's never been easier to get a handle on your schedule, or to check your team's itinerary.
Anow's calendar can:
Synchronize with Google calendar and your phone

Send customizable mobile notifications

Add appointments, due dates, and events with a simple drag-and-drop interface

Block off availabilities and vacation time

Apply filters and overlays to track your entire team

Display in a grid view that suits larger teams
Map every order across your appraisal business
Are you looking for a total overview of your company's appraisal activities?
Build a clearer picture of your appraisal pipeline by viewing your orders on an interactive map.
Toggling 'Map View' in your Appraisal Dashboard pins every order to a map that we've designed to give you the perfect level of detail.
Each order has a colour coded pin:
Get a complete overview
Your map summarizes areas with a large number of orders as a black circle with a number, and shows isolated orders with their colored pin – so no order gets overlooked.
Zoom in for detail
Click on a black circle (anywhere where your business has lots of orders) and the map will zoom in and place each individual appraisal with a colored pin to give you a detailed view.
Filter Your Orders
Map View includes the same filters and search options as List View, so you can remove any orders that you're not looking for and get a clearer picture.
You can filter by:
City

Appraiser

Upcoming appraisals (today or next week/month)

Completed appraisals
Check each order
Click on any appraisal pin to load a slide out panel with key order details. You can also click 'Go to Order Details' to load the full details page for that appraisal.
Slide out order details include:
Assigned appraiser and reviewer
File number
Report type
Report fee
Calculate your driving distance
You can calculate the Round Trip Driving Distance for each appraisal from your company office. If you need to report on mileage, then you can generate a PDF or Excel report that includes the distance driven and details about the appraisal itself.
Automate your client updates with Anow Connect

Do you want a faster, automated way to update your clients about their orders?

Anow Connect gives each of your clients a personalized portal where they can track orders, and sends automated status updates straight to their inbox.
Your clients can use their Anow Connect portal to:
Track the status of each order

Get a map review

View invoice information

Check any relevant notes
Once your client has placed an order and it's been accepted, they can simply log into their Anow Connect portal to begin tracking the status.
Each time you update an order in Anow they immediately receive an automated email update.
Manual phone-call and email updates are now a thing of the past.
Define each business process as a custom workflow

Are you looking for a tool to streamline your business processes?

Use Anow's Custom Workflow tool to define the steps for each activity in your appraisal business and ensure that nothing important gets overlooked.
Build each workflow with tasks
Just add and name a new workflow template, then add each task in order.
Each task can be color-coded and given a description.
Save time with task autocompletion
You can save time by setting a task to be automatically checked-off when a certain action is completed. For example, you can set the task 'Book an Appointment' to be struck-off when an appointment's booked for that order in Anow.
Make workflows your default choice
Set each workflow as the default template for an action. 
Now when your team – let's say – creates a new appraisal, they'll automatically load the 'New Appraisal' workflow, with each step laid-out, color-coded, and carefully described.
Now you can feel confident that each activity in your business will be completed properly.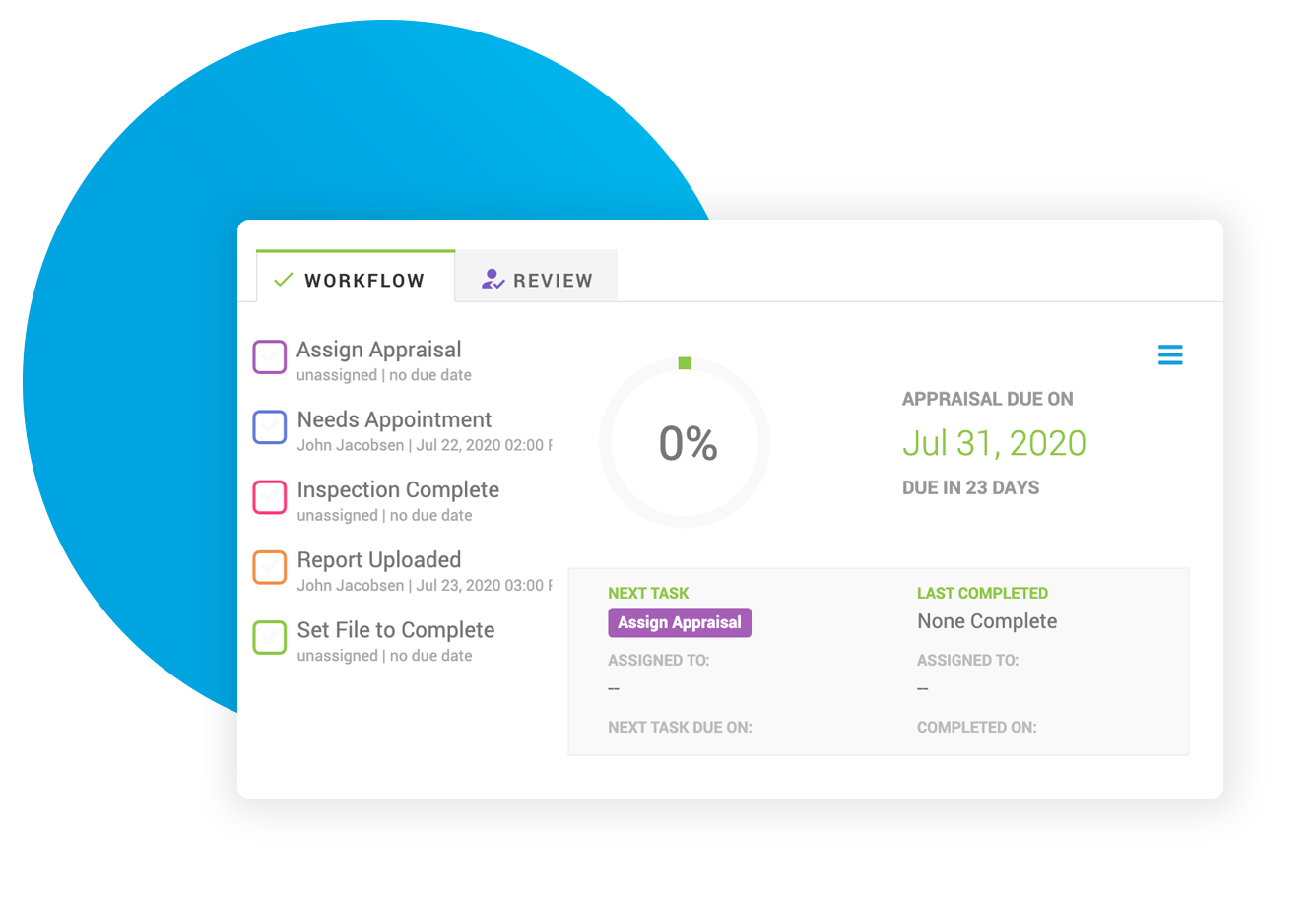 Get an overview of your day
Your team can get a quick summary of their day's activities and tasks each time they check their homepage.
Each homepage can include:
Today's appointments
Tasks that are due
New Appraisals
Your personalized dashboard
Explore and map out each appraisal
Every appraisal detail and record can be found in Anow Mobile – including the address, appraisal requirements, appointment date, and property details.
Just find an appraisal location on the integrated map, then load it into your default map application by tapping 'Directions' – and you're ready to drive.
Check and update your Tasks, Notes, and Files
You can update orders and collaborate with colleagues while you're in the field using Anow mobile – which can save time and improve your customer experience.
Work in the field with Anow mobile:
Check each appraisal's Tasks and give your office updates
Add Notes that your team in the office can read immediately
View any Files that are attached to the appraisal – including PDFs, Order Requirements, and Comparables
Manage your calendar on the fly
Anow Mobile includes your entire appraisal calendar – each job, task, and even the color coding that you set in the office.
Just one click loads the details for each appraisal.
You can switch between day, week, or month views, and any changes made from your phone or the office are synchronized.
Get extra functions on iOS devices
Apple iPhone and iPad users gain several extra features to help them work in the field.
Keep working offline
Anow Mobile for iOS works offline, so you can still open and update files even if you've lost signal or you're on a plane. As soon as you find a connection your files will synchronize again.
Get map directions
You can get directions to your next appraisal appointment with Anow Mobile for iOS. Just tap the 'Directions' button to launch your default map application and start driving.
Use Siri to save notes
Stop trying to scribble notes and type on the move. Just tap the microphone and use Siri to capture property details accurately and save time.
You can download Anow Mobile from the iOS App Store
Work smarter, anywhere, with Anow Mobile
Could your appraisers achieve more if they had every detail at their fingertips?
Anow's mobile app puts the power of Anow and your entire company's knowledge into a simple, beautiful mobile experience that's tuned for each member of your team.
Now your appraisers can spend more time winning business – and less time checking their laptops, calling the office, and trying to work out their schedule.
Upload and attach unlimited files to your orders
Does your business need a flexible solution to upload and organize files?
Anow makes it easy to upload and attach your images and files to orders – and there's no limit on how many you can add.
Manage your files inside your orders
You can browse, or drag and drop files, and even restrict visibility to your admin staff before you upload them.
Manage files from each appraisal page:
View files

Delete files

Label files

Copy a download link

Track uploads and deleted files in the Activity Feed
Upload Final Reports to complete your orders
Upload Final Reports straight from the Appraisal Details page of each order.
Each order can have multiple versions of the final report. There is an icon to indicate the version, and you can save time by setting a company rule to automatically mark an appraisal as being 'Complete' when you upload a Final Report.
Import your live and historical appraisal orders
Are you migrating from another appraisal system with existing orders?

Your appraisal company can quickly migrate its order history into Anow with our handy import tool – and minimize disruption.
Just export your orders in a CSV file (supported by most business systems) and select this file with Anow's Import Tool. You can decide if the import is for Active Orders (editable) or Historical Orders (non-editable) and then match each column against a field in Anow.
Now your orders are in Anow's Appraisal Dashboard and they're ready to either work on (Active Orders) or view (Historical Orders).
Get a personal product training and support experience
Do you feel worried that it might be difficult to setup and use a new system?
We offer free one-on-one product training and support to get your team up to speed.
You can book a session that fits your needs:
1. Process
Set your company up for success. Discover how to build custom workflows, file numbers, add numbers, and more.
2. Finance and Analytics
Get a handle on your company's numbers. Learn how to use payroll, send invoices, set fees, and generate reports.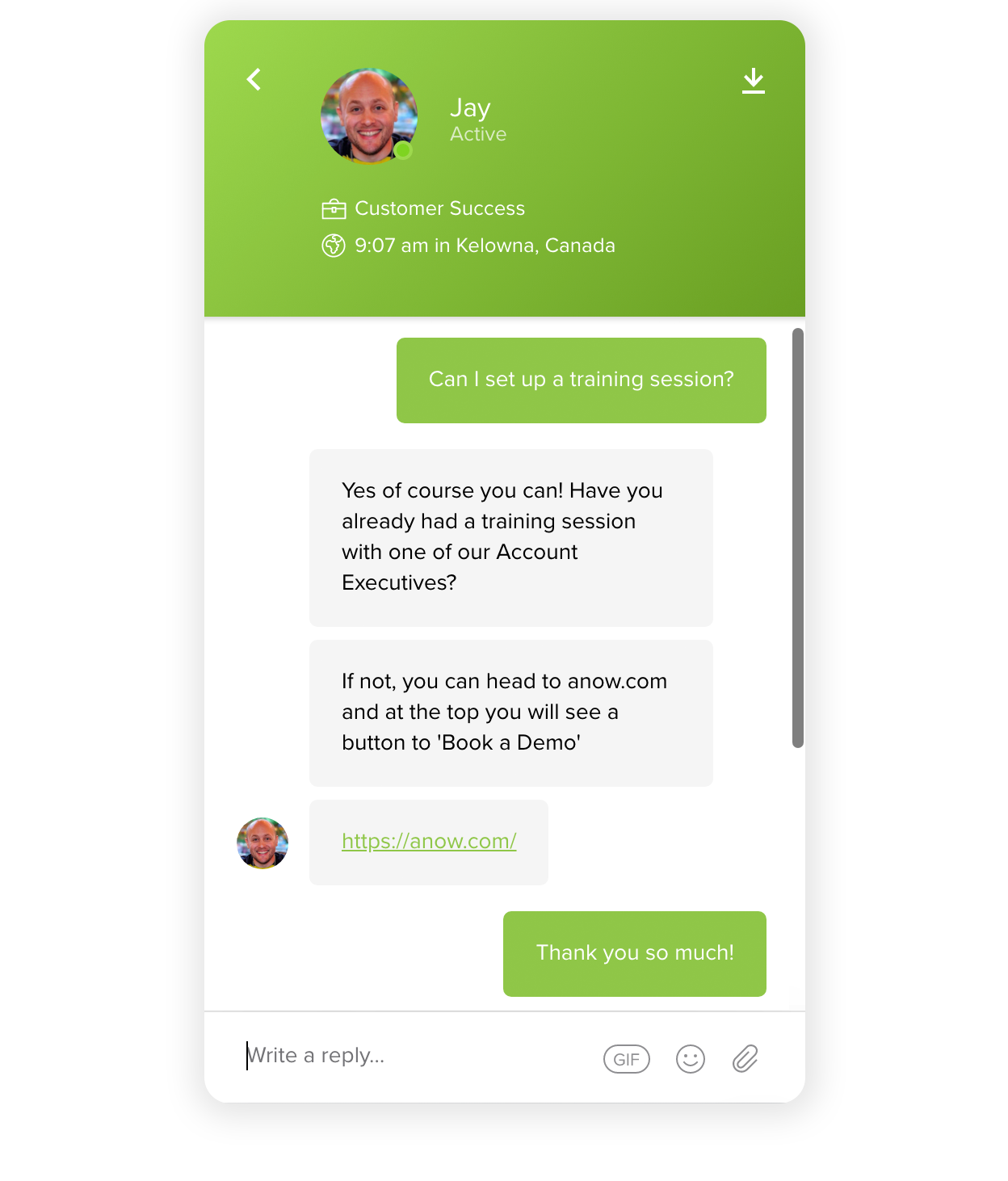 Anow Accelerate
Is your business on a mission to grow?
Accelerate adds a suite of extra tools to help your appraisal business scale.

You can add Accelerate to any Essentials plan, on a monthly or annual basis.
Financials
Get on-demand financial reporting. Answer complex questions with pre-built Insights reports sent straight to your inbox, and save time with canned fees.
Teams
Collaborate more easily than ever. Match your star appraisers with your top clients, set up office profiles and watchers, and track performance with appraiser and client scorecards.
Quality
Enhance your order review quality. Track every review in a dedicated QC dashboard and complete reviews with a side-by-side PDF and customizable checklist interface.
Branding
Stand out and look professional. Add your logo and important company information to each Walkthrough survey, Anow Connect Order Form, and Online Client Portal.
Build a high performance appraisal business
Get a
FREE
30 day trial of Anow and Anow Accelerate.